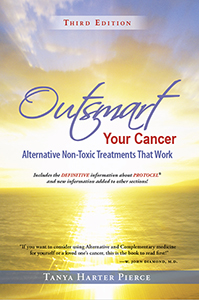 Full Version Kindle EBook
This is the Electronic Version of Tanya Harter Pierce's
Full-Length Paperback Book! For just $9.99
Your Price: $9.99

Start reading this eBook version of Outsmart Your Cancer: Alternative Non-Toxic Treatments That Work, 3rd Ed. IMMEDIATELY!
UPDATED AND EXPANDED.   "Outsmart Your Cancer" is an in-depth alternative cancer treatment guide that could save your life.  It explodes the myths about alternative approaches and presents more than twenty proven treatment methods that are non-toxic along with dozens of real-life cases from people who used these approaches to completely recover from a variety of cancers.  (Many of which were in late stages.)
Highly esteemed doctors and scientists are quoted regarding the scientific basis behind each approach and extra information has been included regarding the amazing liquid formula called "Protocel" with new recent Protocel recovery cases added.  In this Third Edition, all the resources have been updated and exciting new information has broadened the scope of the book—including added sections on the Ketogenic Diet for cancer, on using the natural plant compound "Paw Paw" to obliterate multidrug-resistant cancer cells, and on how you might be able to cure your dog or cat with cancer.
Plus, critical information is presented on what men and women need to know about hormone-blocking drugs, the real truth about DCIS breast cancer (Is it really cancer?), what a man's PSA count really means, and whether he is better or worse off if he takes a testosterone-blocking drug, as well as how to evaluate conventional claims of efficacy for toxic treatments such as chemotherapy and radiation.   This book completely demystifies cancer and makes it clear why non-toxic approaches are often more effective at bringing about complete cures than toxic ones.  Don't miss out on "Outsmart Your Cancer" if you want to make a truly informed treatment decision for yourself or a loved one!