All of the following case stories on audio were recorded and written up by Tanya Harter Pierce, author of OUTSMART YOUR CANCER, and are from people who used one or more of the alternative approaches presented in her book.
---
KIDNEY CANCER METASTASIZED TO LUNGS AND ABDOMEN

In 1997, Bill was diagnosed with kidney cancer and had the cancerous kidney surgically removed. However, he soon found out that his cancer had metastasized to his lungs and abdomen. After trying an alternative method in the Dominical Republic that failed, Bill found out about Protocel. After about a year on Protocel alone, all of Bill's scans showed him to be clear of cancer. He has continued to remain cancer-free for 8 years now and is turning 87 years old next week. ( 6:30 min.)

CHILDHOOD LEUKEMIA
Little Sydney was diagnosed at just two years old with acute lymphoblastic leukemia. Her parents did not know about alternatives at first, and Sydney's doctors put her through extensive chemotherapy that first year. Everyone hoped this would put Sydney into remission, but by the end of the first year Sydney relapsed. At this point, her doctors proclaimed that Sydney's only chance was a bone marrow transplant. However, when her parents found out that this risky procedure only offered a 5% chance of cure, they felt that was not good enough for their little girl. Someone told them about Protocel, so they immediately put Sydney on Protocel Formula 23 while they were trying to decide what to do. Within a short t ime, all Sydney's diagnostic tests were showing her clear of cancer – including a bone marrow sample. So, the bone marrow transplant was never needed. Sydney's parents kept her on Protocel for a few years, then stopped it, and Sydney has never had a recurrence of her leukemia. Over 8 years old now, she has lived the life of a normal little girl and continues to remain cancer-free. ( 2 min.) – SYDNEY'S TESTIMONIAL IS ALSO ON THE AUDIO CD "TREATING CANCER THROUGH NON-TOXIC METHODS."

ADVANCED STOMACH CANCER

In 2002 at age 47, LaVaughn began experiencing terrible pain in his stomach and was throwing up blood. An endoscope procedure diagnosed him with non-Hodgkin's lymphoma of the stomach. The large tumor proved too risky to remove surgically, so LaVaughn's doctor administered chemotherapy. But the chemotherapy was not effective and LaVaughn's tumor was blocking his duodenum so that he could not eat or drink. His only sustenance was obtained intravenously. Finally, his doctor said there was nothing else that could be done other than surgically removing his entire stomach – after which his intestines would be re-attached to his esophagus. This did not sound like a pleasant option to LaVaughn and his wife searched for other options until she found out about Cesium High pH Therapy using liquid ionic cesium and liquid ionic potassium. She started administering these to LaVaughn and soon he was able to eat and drink on his own.
After just 8 weeks on Cesium High pH Therapy and a few other supplements, another endoscope procedure showed the tumor to be virtually gone! His cancer soon disappeared completely and LaVaughn has been cancer-free for the past 4 years. LaVaughn and his wife, Cindy, are now experts on the use of Cesium and have become distributors of liquid ionic cesium, potassium, and other supplements. They can be reached by phone at (888) 336-4972 or email at Lcyordy@swbell.net . ( 7 min.) – LAVAUGHN'S TESTIMONIAL IS ALSO ON THE AUDIO CD "TREATING CANCER THROUGH NON-TOXIC METHODS."

BREAST CANCER

In early 2004, Pam was diagnosed via needle biopsy with a very fast-growing form of invasive ductile carcinoma that was estrogen-driven. There was no evidence of metastasis, but the tumor was growing fast. Luckily, Pam already knew about Protocel and immediately started on Protocel Formula 23. She used the formula aggressively to get on top of her tumor growth, and within just a few months was seeing tumor regression. Pam declined all surgery, chemotherapy, radiation, and hormone-blocking drugs from the very beginning even though her doctor told her that unless she underwent conventional treatment immediately she would die a horrible death. Pam just kept self-administering Protocel for about another year and a half and got regular ultrasound checkups from another doctor. Finally, all her tests showed her to be clear of cancer – including a full-chest CT scan. ( 6 min.). PAM'S TESTIMONIAL IS ALSO ON THE AUDIO CD "TREATING CANCER THROUGH NON-TOXIC METHODS."

NON-HODGKIN'S LYMPHOMA OF THE BRAIN

Dentist, Dr. Bob Rassie, tells his wife's story of recovering from lymphoma of the brain. 3 years ago, when Georgiana was 57 years old, she was diagnosed with non-Hodgkin's large cell lymphoma and underwent surgery to debulk her very large 6.7 cm brain tumor. However, the surgeon could not safely remove all the cancer, so follow-up chemo was recommended was recommended. This treatment was ineffective, so a new procedure was started called "BBBD" (Blood Brain Barrier Disruption) to weaken the blood brain barrier and allow an oral chemo to get through. Georgiana also found out about Protocel and used that along with the oral chemo. Finally, the cancer started diminishing and she was able to stop the oral chemo before the cancer was all gone and just use Protocel from that point. The cancer in her brain continued to reduce after stopping all conventional treatment and all her scans and other diagnostics have completely clear for a year now. ( 16 min.)

PROSTATE CANCER

In June 2005, Alan was diagnosed with prostate cancer via needle biopsy. His PSA was 11.1 and there was no indication of metastasis. However, the needle biopsy of the prostate was administered through the rectal wall which caused a severe septicemia infection to occur. After recovering from the infection, Alan declined conventional treatment for his cancer and decided to use Protocel instead. He took Protocel Formula 23 four times a day for about a year. In July 2006, Alan's PSA was down to 2.5, which is within the normal range for a man over 70 and there were no clinical signs of cancer. Alan prefers not to have another needle biopsy done, but all other diagnostics indicate he is cancer-free. Just to be on the safe side, he plans to use Protocel for one more year. ( 10 min.)

MAST CELL CANCER IN DOG

Molly, an 11-year-old yellow labrador, was diagnosed via needle biopsy with Mast Cell Cancer, Grade II. The main part of the tumor, which was on the inside of her back leg and about half the size of a thumb, had tentacles reaching out quite a distance. So a veterinary surgeon said Molly would have to go through a major surgical procedure that would require moving skin up from the stomach and could involve a difficult recovery. Molly's owner put her on Protocel right away and over a number of months, using nothing but Protocel, the tumor reduced down to 1/8 its original size. At that point, Molly was given surgery – but now it was a much easier surgery with no need to take skin from her stomach. Then, Molly's owner continued to keep her on Protocel to get rid of any last cancer from the tentacles. Two years later, at age 13, Molly is perky, smiles a lot and shows no signs of cancer. ( 11 min.)

VULVAR CANCER METASTASIZED TO LYMPH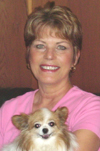 During a routine OB/GYN exam, Nancy found out she had a walnut-sized tumor on her vaginal wall. A needle biopsy diagnosed it as poorly differentiated squamous cell carcinoma which, because of its location was referred to as vulvar cancer. Nancy underwent surgery to remove the tumor, but surgical removal of surrounding lymph nodes showed that her cancer had already metastasized to her lymph system. Her oncologist strongly recommended radiation at that point, but Nancy declined all further conventional treatment and used Protocel alone. 18 months, 4 Pap exams, a mammogram and a CT scan later, all tests show her to be cancer-free. Nancy also gave her little dog Protocel, which seemed to help the dog recover from pancreatitis. Nancy's husband used Protocel as well and a psoriasis/fungal type infection he'd had on his fingers for 10 years disappeared after just two weeks. (21:30 min.)

BLADDER CANCER METASTASIZED TO LYMPH

Bonnie is a 61-year-old flight attendant with a very active life. Over two years ago, during a hysterectomy surgery, her doctor found a large tumor in her lymph system. This was removed and a week later a tumor in her bladder (which was the primary site) was also surgically removed. Pathology reports concluded Bonnie had a very aggressive bladder cancer that had metastasized to her lymph system. She decided, however, that she did not want to do chemotherapy and chose to use Protocel to get rid of any cancer left in her lymph system. Bonnie has gotten regular diagnostic tests for two years now and they have all shown no her to be clear of cancer. Interestingly, Bonnie's Hepatitis C condition that she'd had for about 18 years seems to have improved while she's been on Protocel as well! ( 21 min.)

ESOPHAGEAL CANCER METASTASIZED TO TRACHEA

In July of 2005, after losing weight and having trouble eating, Dick was diagnosed with esophageal cancer. An extensive, 12-hour surgery was performed which appeared to get all the cancer, but Dick almost died afterward first from septic shock, then from 2 staff infections he picked up at the hospital. In February of 2006, Dick found out his cancer was back and growing again in his esophagus and had also metastasized to his trachea. Immediate radiation was administered, which reduced his cancer by about 55% but did not get rid of all his cancer. Luckily, Dick found out about Protocelthe next month (in March '06), and started on Protocel Formula 50. Less than 6 months later, a bronchial scoping procedure and a CT scan both could no longer find any cancer in his esophagus or in his trachea! Dick is thrilled and one of his doctors is now interested in Protocel. ( 8 min.)

BREAST CANCER METASTASIZED TO LYMPH

At age 55, Kathleen had a mammogram that showed up something suspicious. A follow-up needle biopsy indicated breast cancer. She underwent a lumpectomy to remove the tumor in the breast, but removal of surrounding lymph nodes showed her cancer had metastasized to her lymph system. Kathleen's doctor diagnosed her with invasive ductile carcinoma and recommended that she undergo MORE surgery to remove extra breast tissue, then do radiation, chemotherapy, and Tamoxifen. Kathleen declined ALL of these conventional treatments and decided to follow-up her lumptectomy with Protocel alone to get rid of any remaining cancer in her lymph system or breast tissue. She used Protocel Formula 23 for 6 months before going back to her doctor for diagnostic tests. At that point, none of her diagnostic tests could find any cancer anywhere in her body. She continued on Protocel and continued going back for diagnostics every few months. Five years after her lumpectomy, at age 60, Kathleen reports that all of her diagnostics have continued to be clear, she feels great, and there is still no evidence of cancer recurrence of any kind. ( 7:30 min.)

BLADDER CANCER
78-year old Thomas is an insulin-dependent diabetic with a pacemaker. At the end of 2005, after having difficulty urinating, he also found out he had bladder cancer. A scoping procedure identified the tumor and his doctors performed surgery to scrape out what they could of the cancer. His oncologist didn't like how it looked, however, and felt they probably did not get all the cancer. So, he recommended another surgery to remove the bladder completely which would mean Thomas would be attached to a bag the rest of his life. Thomas did not want that and since he already knew of several people who had done well on Protocel he decided use Protocel to get rid of any remaining cancer he had instead of having his bladder removed. Thomas has been on Protocel Formula 23 for about 8 months since his surgery and multiple diagnostic tests continue to show no sign of recurring cancer. ( 16 min.)

CHILDHOOD BRAIN TUMOR

This impressive long-term success story started in September of 1996, just after Scott had turned 4 years old. Little Scott started having partial seizures. Scans and other tests showed that Scott had a slow-growing brain cancer, which was diagnosed as astrocytoma. The pediatric oncologist recommended surgery followed by chemotherapy. But the tumor was in Scott's speech and comprehension area, so surgery was full of risks to his future ability to speak. Scott's parents had heard about Protocel and decided to use that instead of conventional surgery and chemo. After about 3 months on Protocel, Scott's seizures stopped and he was able to be taken off his anti-seizure medication. Over more time, the tumor gradually shrank and highlighted less and less on scans. Finally, the doctors weren't sure if there was any tumor left. Scott is now 14 years old (end of 2006), and has excelled in school and all other areas, while living a completely normal life. ( 22 min. )

CHILDHOOD BRAIN TUMOR
At just 18 months old, little Dylan started exhibiting the following serious symptoms: of right eye turn, facial droop, drool, difficulty balancing, and difficulty swallowing. After medical examination, he was diagnosed with inoperable brain cancer – a type of tumor in his brainstem called diffuse pontine glioma. Specialists offered no hope and recommended no treatment. Instead, hospice was recommended to keep him comfortable for the short time he had left. After going to more doctors, Dylan's parents finally found one who was willing to administer radiation to try to prolong Dylan's life. Two weeks into the radiation treatment, Dylan was also started on Protocel. The first post-radiation MRI revealed that the tumor had reduced 75% in size. The doctor, who happened to be one of the leading pediatric oncologists in the country, was amazed. He did not think radiation alone could have achieved that kind of shrinkage. (Radiation works synergistically with Protocel.) Over time, ALL of Dylan's symptoms disappeared. At 6 months after diagnosis, Dylan was looking and acting like a normal toddler, with no appearance of anything wrong with him. Now, in early 2007, Dylan is 4 1/2 years old and functioning in school with no difficulties at all. His parents have continued to give him Protocel every day, just to be on the safe side. ( 23 min. )
"AN EARLIER VERSION OF DYLAN'S TESTIMONIAL IS ON THE AUDIO CD "TREATING CANCER THROUGH NON-TOXIC METHODS."

UNDIAGNOSED MASS IN DOG
Buffy, a 6-year-old pug, was taken to the vet after she started exhibiting pain and trouble breathing. An ultrasound revealed a mass in Buffy's chest, close to her heart. The veterinarian wanted to perform major surgery, but Buffy's owner, Gail, declined that option because Buffy was so weak. Gail started Buffy on Protocel, instead, to see if it would help. In just 3 days, Buffy felt 100% better. She could breathe normally again and did not exhibit any signs of pain. Though no more scans have been done on Buffy, Gail has continued to keep her on the Protocel, just to be safe. For months now, Buffy has experienced no recurrence of symptoms or difficulties of any kind. ( 9 min. )